Work continues at "8th Lock" mix-use development located at Royal Canal Park in Ashtown, Dublin 15.
In May 2020, Irish developers Ballymore received planning approval for 435 residential units over 5 blocks that range in height from 7 to 13 storeys.
Ballymore recently sold the development for over €200 million to German investors Union Investment in March 2021. The transaction marked Union's first investment in the Irish residential market and one of its first residential deals in Europe. The German-headquartered fund's Irish portfolio is now valued at over €770 million. The investors acquired 6 Dublin offices with a value of €570 million between 2015 and 2020.
The mix-use development forms Phase IV of Royal Canal Park located at the former Ormond Printworks on Ratoath Road. It comprises 218 one-bed and 217 two-bed apartments and 4,200 sq m (45,208sq ft) of commercial and amenity space. The scheme also includes public plazas, a healthcare centre, pharmacy, own-door offices, and a gym. It includes 255 car parking spaces, electric vehicle charging points, disabled parking, and nearly 950 bicycle parking spaces at surface and underground levels.
When this final phase is complete, the overall 162,000 sq m (1,743,753 ft sq ft) Royal Canal Park development will consist of over 1,630 residences, office space, cafes, and retail units including an already operating Aldi supermarket.
Royal Canal Park is already well-connected thanks to its proximity to Ashtown train station, the Luas cross-city line, and numerous Dublin Bus routes. The opening of a new train station this year at Pelletstown is expected to reduce the commute time to Dublin city centre to 25 minutes.
CGI consultants, 3D Design Bureau, liaised with the development team to provide 3D marketing solutions. 3D Design Bureau produced a total of 5 architectural CGIs, 25 interior CGIs, and an interactive off-plans 360 virtual tour with 35 scenes. The 3D visualisations were used to showcase the scheme during its construction phase.https://3ddesignbureau.com/app/Ormond360VT/
Full Project Details
Project Name: "8th Lock" at Royal Canal Park.
Site Location: The Ormond Project, Royal Canal Park (Phase IV), Ratoath Road and Hamilton View, Pelletstown, Dublin 15
Stage: On site.
Floor Area: 32,157m2
Site Area: 1.88 hectares
Units: 435
Storeys: 7 to 13
Blocks: 5
Car Parking: 258
Bicycle Parking: 942
Planning Authority: Dublin City Council
An Bord Pleanála Reference: ABPREF306167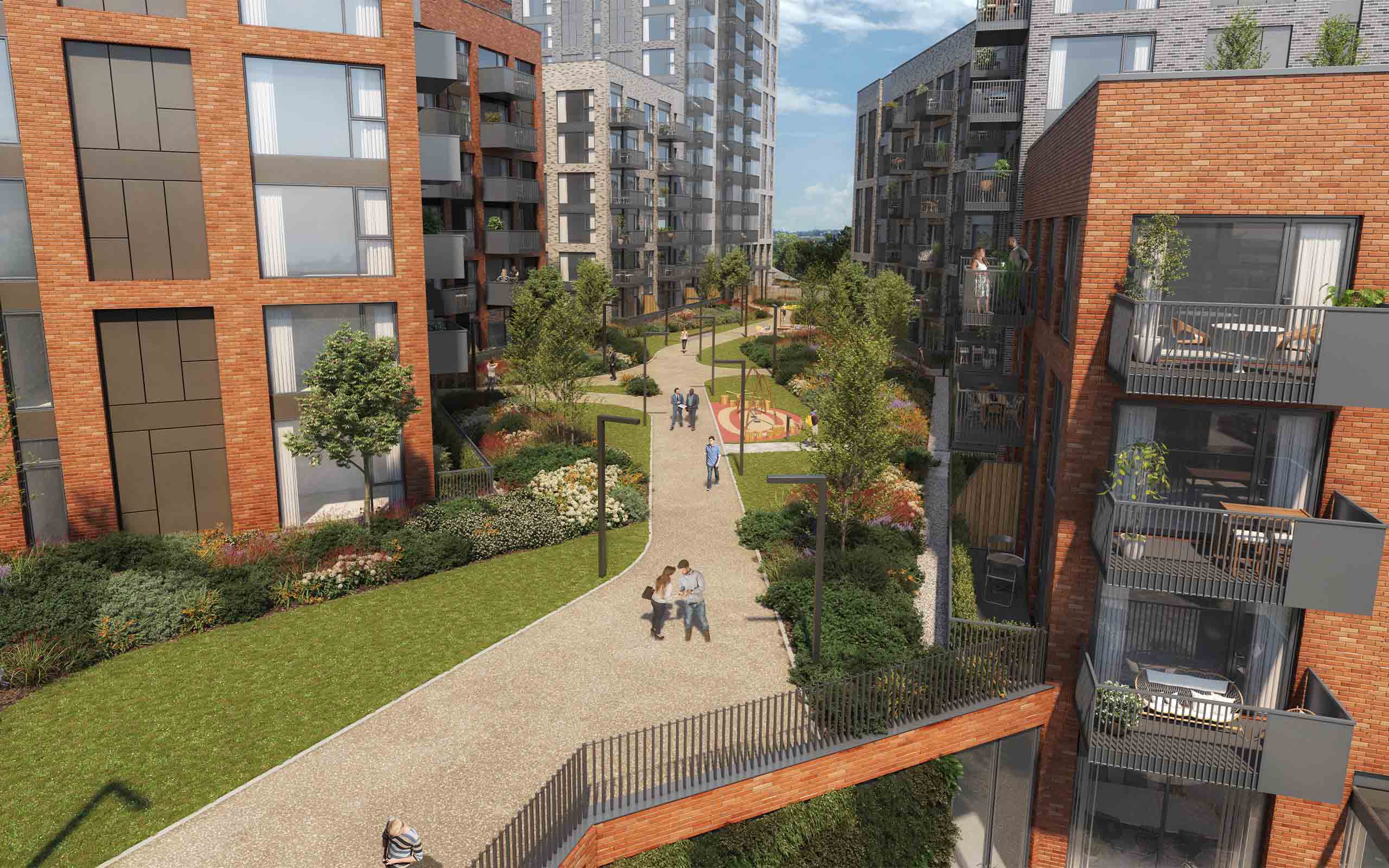 Development Team:
Developer & Main Contractor: Ballymore Group works in complex new and old urban settings and carries out sensitive modernisation in established and historic cityscapes.
Architect & Assigned Certifier: Reddy Architecture and Urbanism is an award-winning firm of architects and design professionals providing a comprehensive range of design services.
Planning Consultant: Stephen Little & Associates Chartered Town Planner is based in Dublin and is a corporate member of the Royal Town Planning Institute and the Irish Planning Institute.
Consulting Engineer: JAK Consulting Engineers is a leading multi-award-winning MEP design and sustainable energy consultancy firm in Ireland and the EMEA.
Landscape Consultant: Park Hood Chartered Landscape Architects respond to diverse Client requirements, delivering designs that are innovative and dynamic, through a process of observation, creative interpretation, and attention to detail.
Civil & Structural Engineer: JB Barry & Partners have designed exceptional projects in Water Services, Transportation, and Structural engineering, taking account of the environment, planning, energy optimisation & management, and health & safety.
CGI Consultants: 3D Design Bureau – are specialists in architectural visualisation, BIM, and VR – delivering quality design planning and marketing solutions. For this project, 3D Design Bureau produced a total of 5 architectural CGIs, 25 interior CGIs, and an interactive off-plans 360 virtual tour with 35 scenes. They are based in Dublin, Ireland.
Images produced by 3D Design Bureau