Dublin's Liberties is set to welcome a design-led hotel development with planning being approved for the Molyneux Hotel located behind the Vicar Street Venue.
The 8-storey hotel will feature 261 bedrooms that are designed to merge contemporary design and functionality to optimise space and light. The hotel will offer state-of-the-art amenities including a rustic courtyard-style restaurant, an underground railway bar, a warm industrial-designed café, and a sharp monochrome reception.
The interiors were bespoke-designed by Irish interior designers, NORTH Design. Co-founder, Lauren Martin commented "The brief was to create an environment which was appealing to guests coming to Dublin for both work or a city break, and feature both urban elements to reflect the hotels location, as well as luxury design details that will make the hotel memorable to guests after they depart."
The developers behind the Molyneux Hotel, Salamisso Developments, are expecting to complete construction in 2022. Once completed, the developers claim that it would create over 200 jobs. A spokesperson for the group commented "This hotel will be in a prime position in the heart of the Liberties tourist zone and aims to revitalise an area which has gone undeveloped over the past few decades."
CGI consultants, 3D Design Bureau, liaised with NORTH Design to produce a series of 3D marketing solutions to bring the Molyneux Hotel to life. 3D Design Bureau delivered architectural CGIs, interior CGIs, a 3D walkthrough animation, and an off-plans 360 virtual tour.
Full Project Details:
Project name: Molyneux Hotel, Dublin's Liberties.
Site location: Lands at Molyneux Yard and Egine Alley, Dublin 8
Planning stage: Planning granted
Planning documents: Dublin City Council – An Bord Pleanála 
Floor area: 8,369 m2
Site area: 0.13 hectares
Storeys: 8
Bedrooms: 261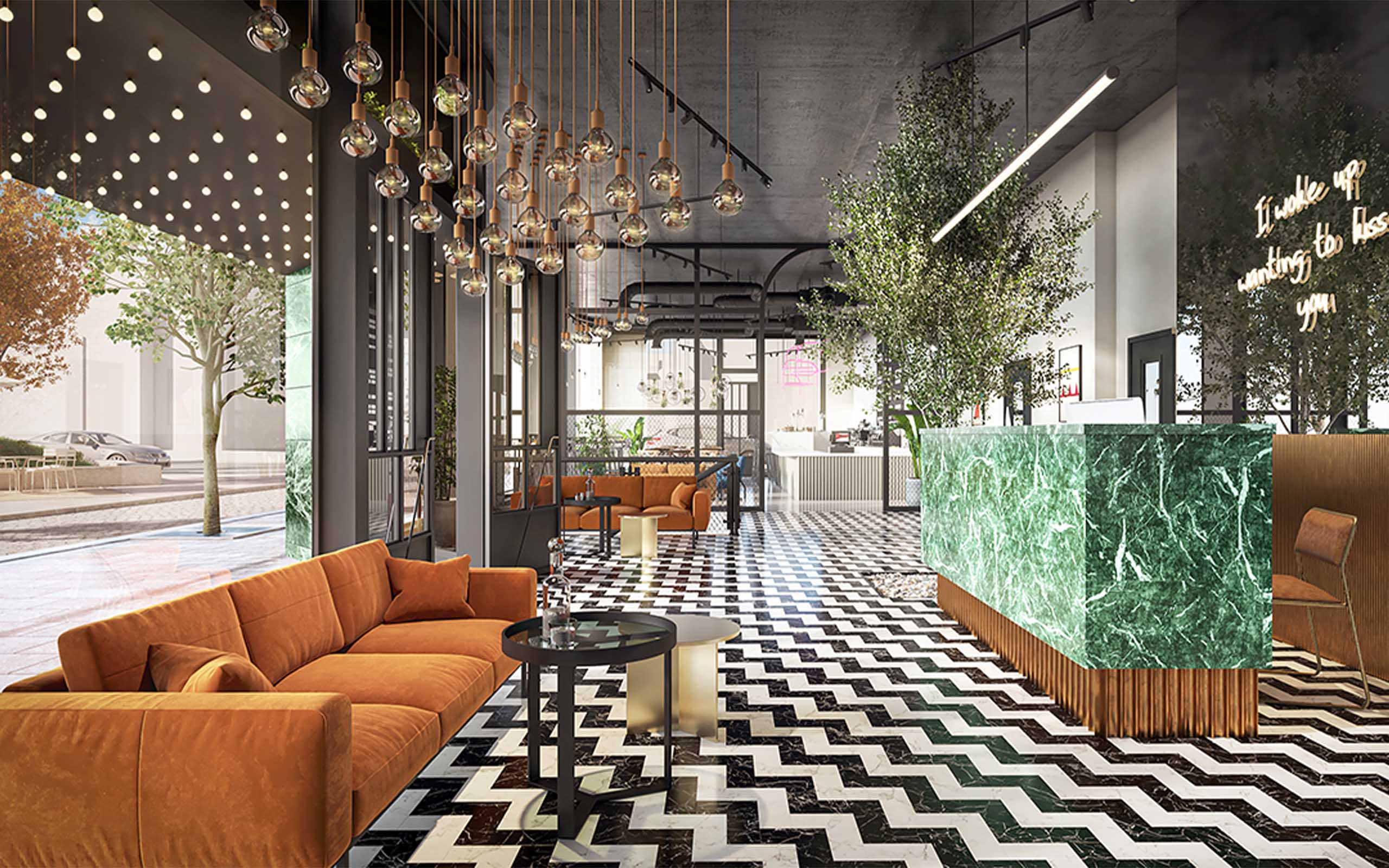 Development Team:
Developer: Salamisso Developments acquire, develop, and manage high quality investment-grade properties and market leading family homes.
Architect: Horan Rainsford Architects are a multi-discipline and award winning architectural practice which was founded in 1973. They are based in Blackrock, South Dublin.
Interior Designer: NORTH Design are a Dublin based design studio specialising in Interior Architecture, Interior Design and Creative Direction.
Planning Consultant: Thornton O'Connor Town Planning is one of Ireland's leading planning consultancies providing strategic, specialist and technical planning services to a wide range of clients. They are based in Dundrum, Dublin.
Consulting Engineer & Transport Consultant: Torque Consulting Engineers Limited provide a wide range of both structural and civil engineering services. Their projects include work in the Public, Commercial, Retail and Residential Sectors. They are based in Dublin 7.
Consulting Engineer: Metec Consulting Engineers have worked on many mixed-use commercial and residential developments across a wide range of engineering fields. They are based Bray, Wicklow.
Landscape Consultant: Mitchell & Associates is a multidisciplinary design practice incorporating Landscape Architecture, Urban Design, Arboriculture and Environmental Impact Assessment at its core. They are based in Dublin 9.
Environmental Engineer:AWN Consulting Limited is a multidisciplinary consultancy offering specialist design advice, expert witness and litigation support in respect of a wide range of engineering and environmental disciplines. They are based in Dublin 17.
Environmental Engineer: Open Field Ecological Services are based in Dublin 15.
CGI consultants: 3D Design Bureau – are specialists in architectural visualisation, BIM and VR – delivering quality design planning and marketing solutions. For this project 3D Design Bureau delivered architectural CGIs, interior CGIs, a 3D walkthrough animation, and an off-plans 360 virtual tour. They are based in Blackrock, Co. Dublin.
Images produced by 3D Design Bureau