An Bord Pleanála have granted planning permission to developer Brian M Durkan & Co to build 265 apartments on the site of a disused Dulux Paint Factory on Davitt Road, Dublin 12.
The scheme will consist of 265 'Build-to-Rent' units that will be arranged in 4 housing blocks ranging in height from 3 to 7 storeys. The development will include a retail/café unit, a resident's gym, 119 car parking spaces, internal semi-public paths, public and private open spaces and all communal facilities including refuse and bike parking.
Ideally located on the Canal and Luas line, this large scheme is expected to rejuvenate the Drimnagh area as the 0.83 hectares site has been dormant for years.
3D Design Bureau developed several verified view montages, architectural CGIs and BRE daylight analysis reports which assisted Brian M Durkan to receive a clean grant from planners.
Managing Director of 3D Design Bureau, Nicholas Polley stated; "There was a very close working relationship on the project between John Fleming Architects and planning consultants, Brock McClure Consultants." He added "Through this collaborative approach the scheme was tweaked in terms of design to ensure that it did not negatively impact the existing environment, from both a visual and day-lighting perspective."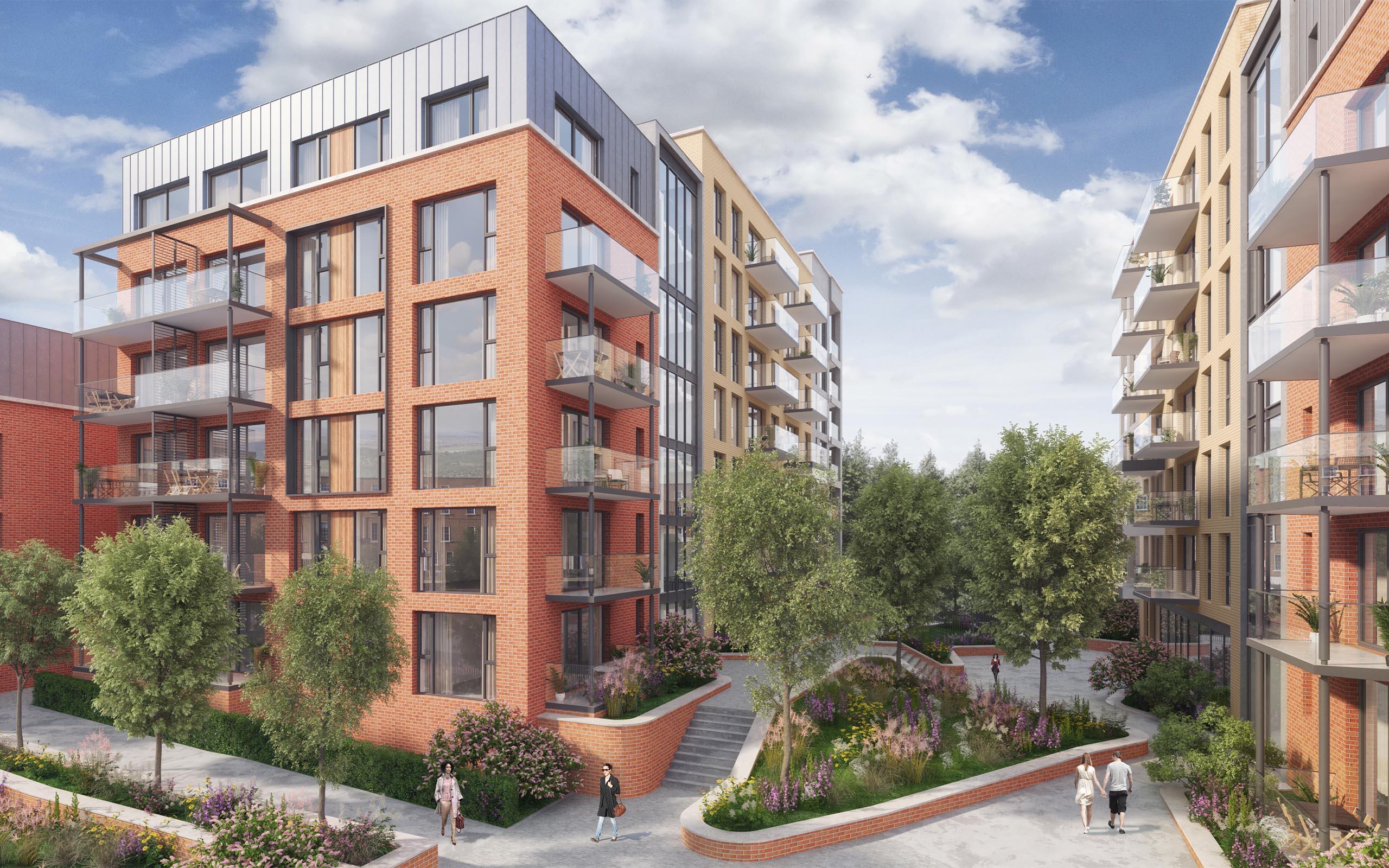 Full Project Details:
Project name: Davitt Road Apartment Development.
Site location: Former Dulux Factory Site, Davitt Road, Dublin 12.
Stage: On-site.
Floor area: 17,071.2 m2.
Site area: 0.83 hectares.
Storeys: 3 to 7.
Units: 265.
Structures: 4.
Car parking: 119.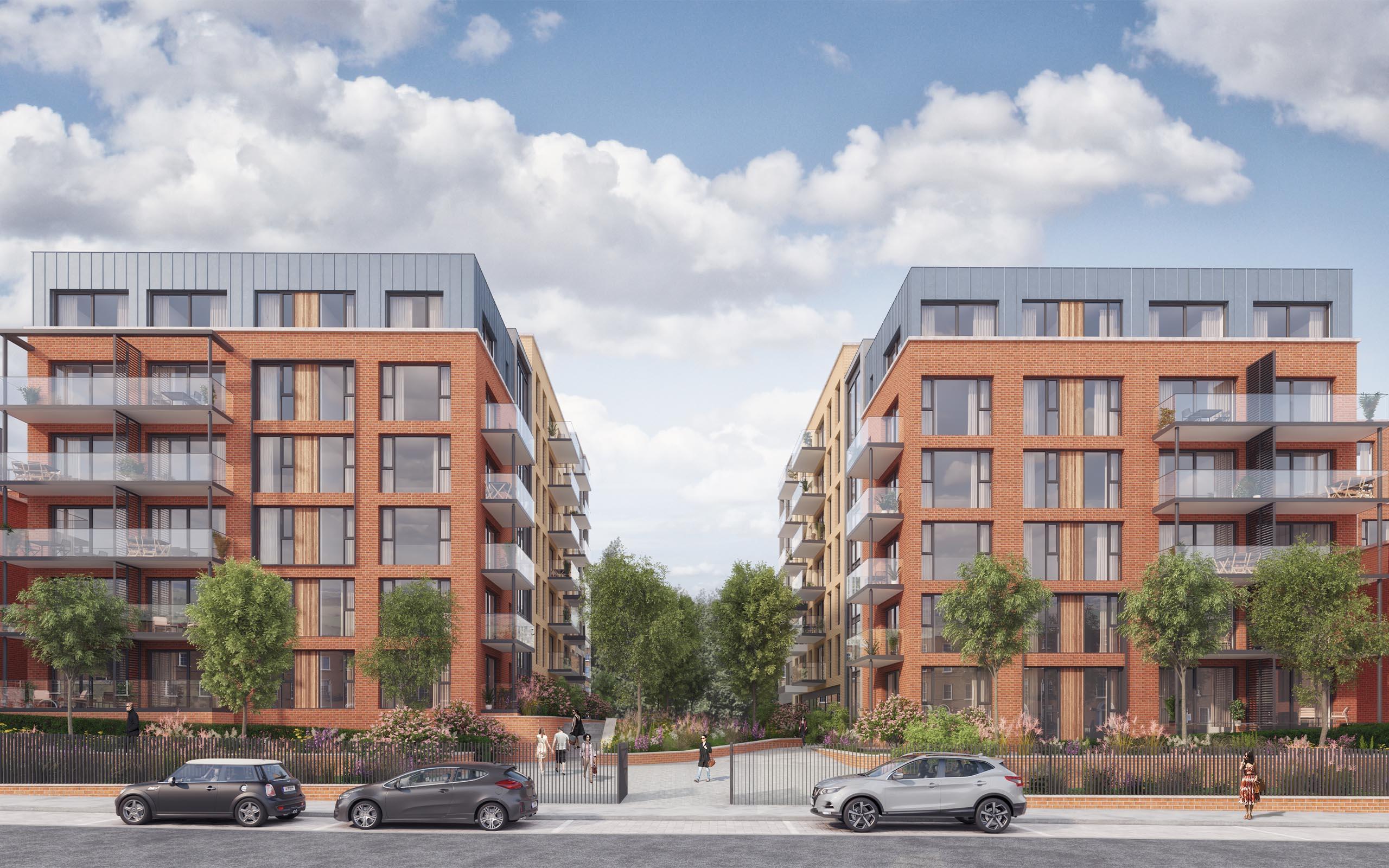 Development Team:
Developer: Brian M Durkan & Co is a major Irish company with over half a century's experience of leadership in the building and construction industry. Commitment to combining emerging technologies with established best practice to provide future growth in the key areas of quality, safety, engineering, construction, and residential and commercial property.
Architect: John Flemming Architects specialise in private one-off residential, multi-unit residential, commercial, hospitality/leisure and retail projects, as well as much-needed student residences and many large-scale master planning exercises.
Planning Consultant: Brock McClure Consultants is a a town planning consultancy partnered by Laura Brock and Suzanne McClure. We have 20 years of experience in all aspects of planning consultancy and a proven track record in the industry. They are based in Dun Laoghaire, South Dublin.
Consulting Engineers: Kavanagh Burke Consulting Engineers have been established for over 13 years and offer a complete civil and structural engineering consultancy and project management to clients in both the private and public sector. They are based in Dublin 12.
CGI consultants: 3D Design Bureau – are specialists in architectural visualisation, BIM and VR – delivering quality design planning and marketing solutions. For this project 3D Design Bureau created a series of verified view montages, architectural CGIs and a BRE daylight and sunlight assessment which were used for planning, marketing and design purposes.
Images produced by 3D Design Bureau