EWR Innovation Park Limited have received the green light from An Bord Pleanála for the construction of 336 apartments on the Docklands Innovation Park site on East Wall Road, Dublin 3.
Approved under fast-track planning, the 336 apartments will be spread across 6 housing blocks, spanning in height from 5 to 10 storeys.
The apartments will comprise of a mix of 1-, 2- and 3-bed homes with associated multipurpose residential spaces.
The scheme will include amenities such as 3 office units, a café or restaurant unit, rooftop terraces, play areas and a creche.
The approved development will involve the demolition of the existing light industrial and commercial units on the site.
More than 20% of the 1.45 hectare site will be designated to public open areas such as communal open spaces, greens and play areas. A total of 195 car spaces and 420 bicycle storage spaces are also outlined in the plans.
The East Wall site is located within a 10 minutes' walk from the 3Arena and the Central Bank of Ireland.
CGI consultants, 3D Design Bureau, liaised with the development team to construct a series of 3D planning and 3D marketing solutions. 3D Design Bureau produced verified view montages, architectural CGIs and presentation photomontages which were submitted as part of the planning application to An Bord Pleanála. The visuals are now being used for marketing purposes with national media covering the project.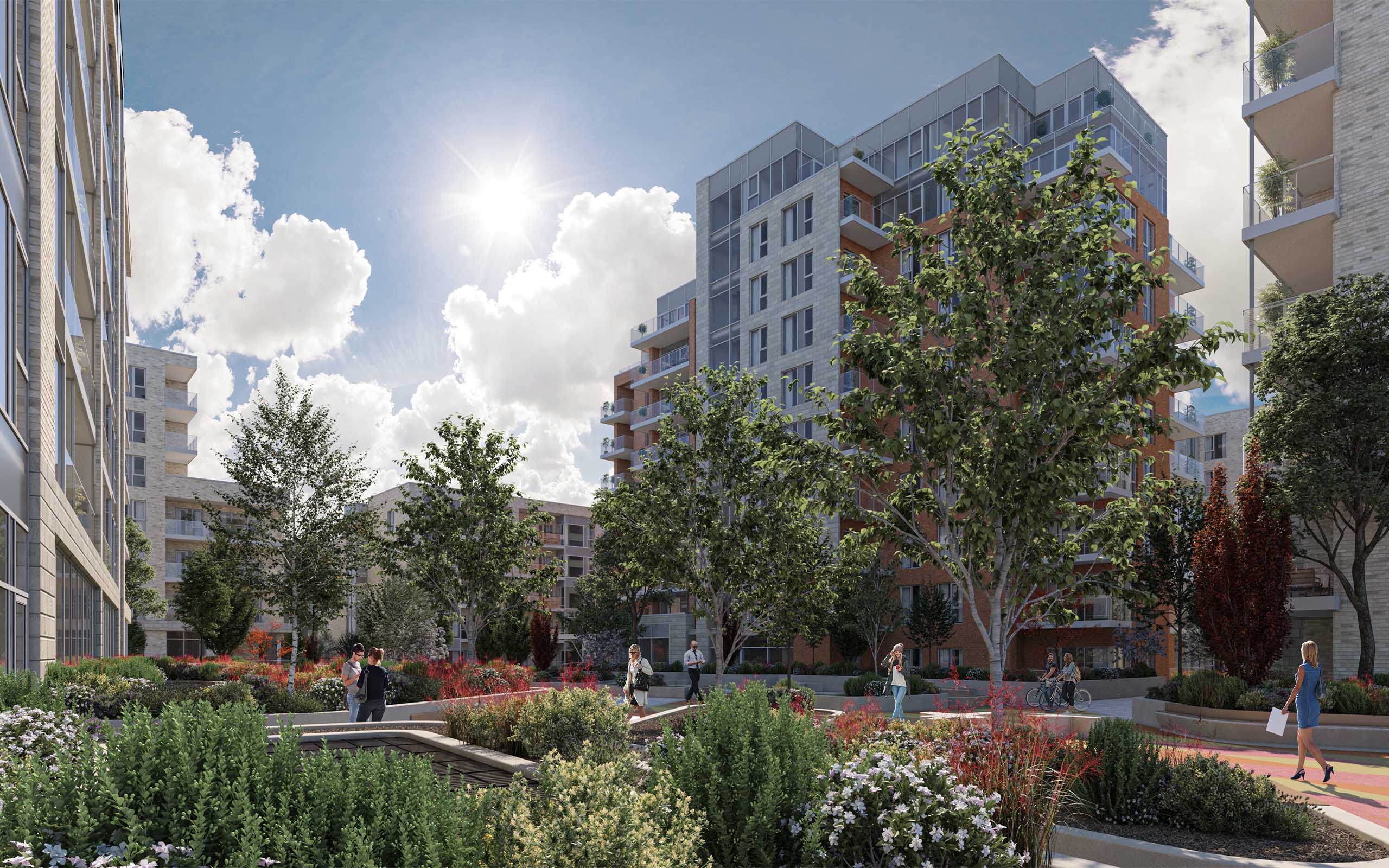 Full Project Details:
Project name: East Wall Strategic Housing Development.
Site location: Docklands Innovation Park, 128-130 East Wall Road, Dublin 3
Planning stage: Planning granted
Planning documents: Development website – An Bord Pleanála 
Floor area: 29,147 m2
Site area: 1.45 hectares
Storeys: 5-10
Units: 366
Structures: 6
Car parking: 195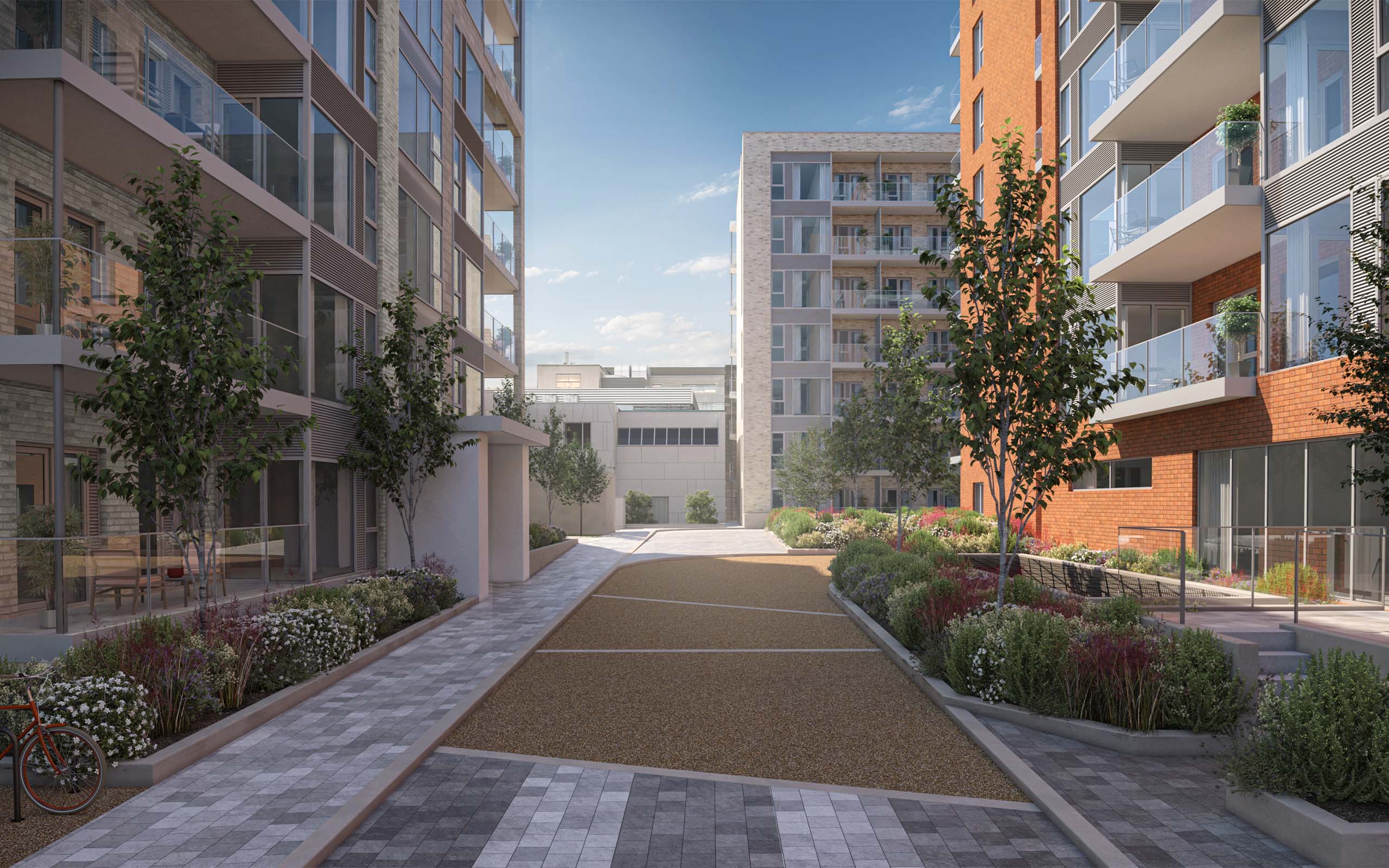 Development Team:
Developer: EWR Innovation Park Limited are based in Ashbourne, Co. Meath.
Architect: McCrossan O'Rourke Manning Architects is a leading Architectural practice with specialisation in master planning and residential design for private developers, institutional and public sector clients. The practice is currently expanding its involvement in the mixed use and commercial sectors. They are based in Dublin, Ireland.
Planning Consultant: John Spain Associates were established in 1996 by John Spain. Based in heart of Dublin's central business district with associate offices in London, Manchester, and Leeds in the United Kingdom. They a wide range of professional services throughout Ireland in the areas of planning, development, and environment.
Consulting Engineer: Poga Consulting Engineers has over 25 years' experience in providing professional Consultant Engineering Services to the construction industry throughout Ireland. They are based in Dublin 14.
Consulting Engineer: NRB Consulting Engineers is a fully Irish-owned, Irish-based independent business. The principals in the firm together have over 60 years' experience in a wide variety of traffic, transport, traffic impact, roads design & Civil Engineering projects. They are based in Dublin 14.
Consulting Engineer: JBA Consulting are based in Dublin 17.
Environmental Engineer: IN2 Engineering and Design Partnership provide in-house expertise in Passive Design, Sustainability, Dynamic Thermal Modelling, Airflow Simulation (CFD), Lighting Simulation and BIM. They are based Dublin and London.
CGI consultants: 3D Design Bureau – are specialists in architectural visualisation, BIM and VR – delivering quality design planning and marketing solutions. For this project 3D Design Bureau created a series of verified view montages, presentation photomontages and architectural CGIs which are being used for planning, marketing and design.
Images produced by 3D Design Bureau