One of Dublin's greatest Georgian mansions, Aldborough House is about to undergo a major redevelopment to create a model office headquarters complex.
Aldborough House on Portland Row in Dublin's City Centre has been derelict for over 20 years and will now undergo a major €30 million office development which was approved by An Bord Pleanála earlier last year.
Combining both old and new, the 18th century centre piece will be fully restored as a protected structure along with the south pavilion wing and reconstruction of the long demolished northern chapel pavilion, together with linking colonnaded screen wall.
This will open the fully restored entrance front and principal elevation of the building to the street as originally intended.
When completed, Aldborough House will provide over 11,000sq m of Grade A office accommodation spanning over 5-storey wings.
Work has not yet commenced on the office development as owners, Reliance Investments, say that an anchor tenant is required for the Georgian mansion before construction can proceed.
CGI consultants, 3D Design Bureau liaised with Howley Hayes Architect to construct a series of architectural visualisation renders. 3D Design Bureau produced verified view montages and architectural CGIs which were used for both planning and marketing purposes.
Full Project Details:
Project name: Aldborough House: €30m Office Redevelopment
Site location: Aldborough House, Portland Row, Dublin 1
Planning stage: Planning granted
Planning documents: Dublin City Council – An Bord Pleanala
Floor area: 12550 m2
Site area: 0.48 hectares
Storeys: 5
Car parking: 36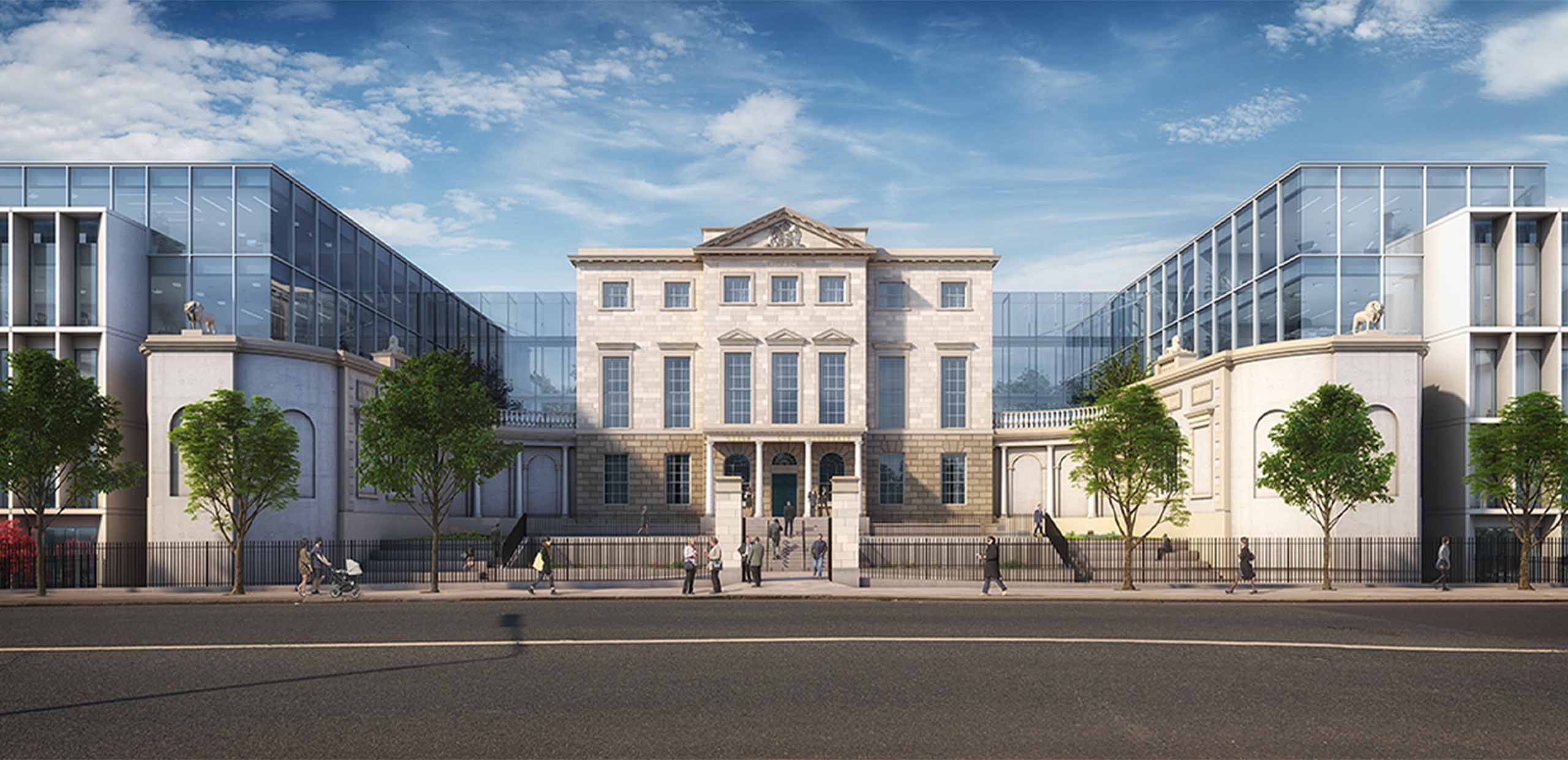 Development Team:
Developer: Reliance Investments Limited are based in Lucan, Dublin.
Architect: Howley Hayes Architects is a Royal Institute of the Architects of Ireland Grade 1 accredited conservation practice, with extensive experience in the care, repair, alteration and reuse of historic buildings and places. They are based in Blackrock, Dublin 4.
Planning Consultant: Doyle Kent Planning Partnership Limited offfer a wide range of Planning related services – An Bord Pleanála Appeals, Planning Applicvtions, Assessment and Advice on all Types of Land-use Planning Projects, Representations for Compulsory Purchase Orders amd Environmental Impact Assessment. They are based in Blackrock, Dublin 4.
Quantity Surveyor: Austin Reddy & Company provide a proactive professional cost control service by forming early relationships with Clients and design teams to enable informed decision making throughout all stages of a project. They are based in Clontarf, Dublin 3.
Consulting Engineer: Casey O'Rourke and Associates is a Dublin based structural engineering practice established in 2006 and has built it's reputation on innovative thinking and structural engineering solutions.
Landscape consultant: AIT Urbanism & Landscape are based in Dublin, Ireland.
CGI consultants: 3D Design Bureau – are specialists in architectural visualisation, BIM and VR – delivering quality design planning and marketing solutions. 3D Design Bureau created a series of verified view montages and architectural CGIs which were used for both planning and marketing purposes.
Images produced by 3D Design Bureau