Construction has recommenced on a new Maldron hotel and apartments on the site of the former Tara Towers Hotel on Merrion Road, Dublin 4.
Dalata Hotel Group, the largest hotel operator in the Republic, purchased the building for €13.2 million in 2016. In 2017, Dublin City council granted the hotel group planning approval for an estimated €51 million mix-use development.
The Dublin 4 scheme will include a four-star Maldron hotel with 140 rooms, a restaurant, bar, and meeting facilities. The plans also include the construction of 69 apartments and a basement car park.
Following the lifting of Convid-19 restrictions, main contractors, McAleer and Rushe have recommenced construction on site. The project was expected to be handed-over in quarter 1 of 2021 but will be extended by a number of months.
CGI consultants, 3D Design Bureau liaised with architects, MOLA architecture to produce a series of 3D planning and marketing solutions of the development. 3D Design Bureau produced verified view montages and presentation photomontages which were submitted as part of the planning application to Dublin City Council.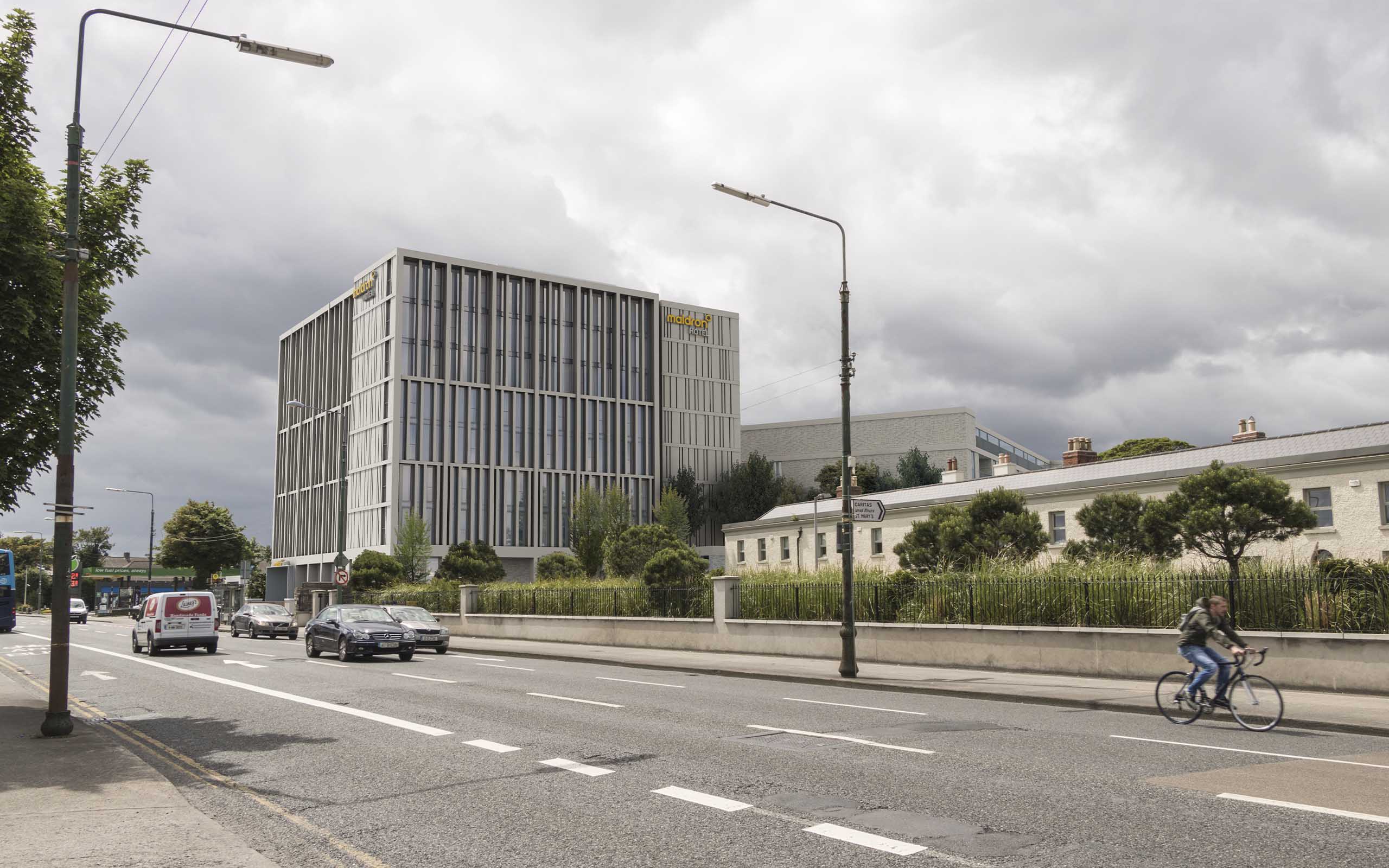 Full Project Details:
Project name: Maldron Hotel at Former Tara Towers Hotel site.
Site location: Former Tara Towers Hotel, Merrion Road, Dublin 4.
Planning documents: Dublin City Council
Floor area: 18,981.9 m2
Site area: 1.46 hectares
Storeys: 9
Units: 140 hotel rooms and 69 residential units.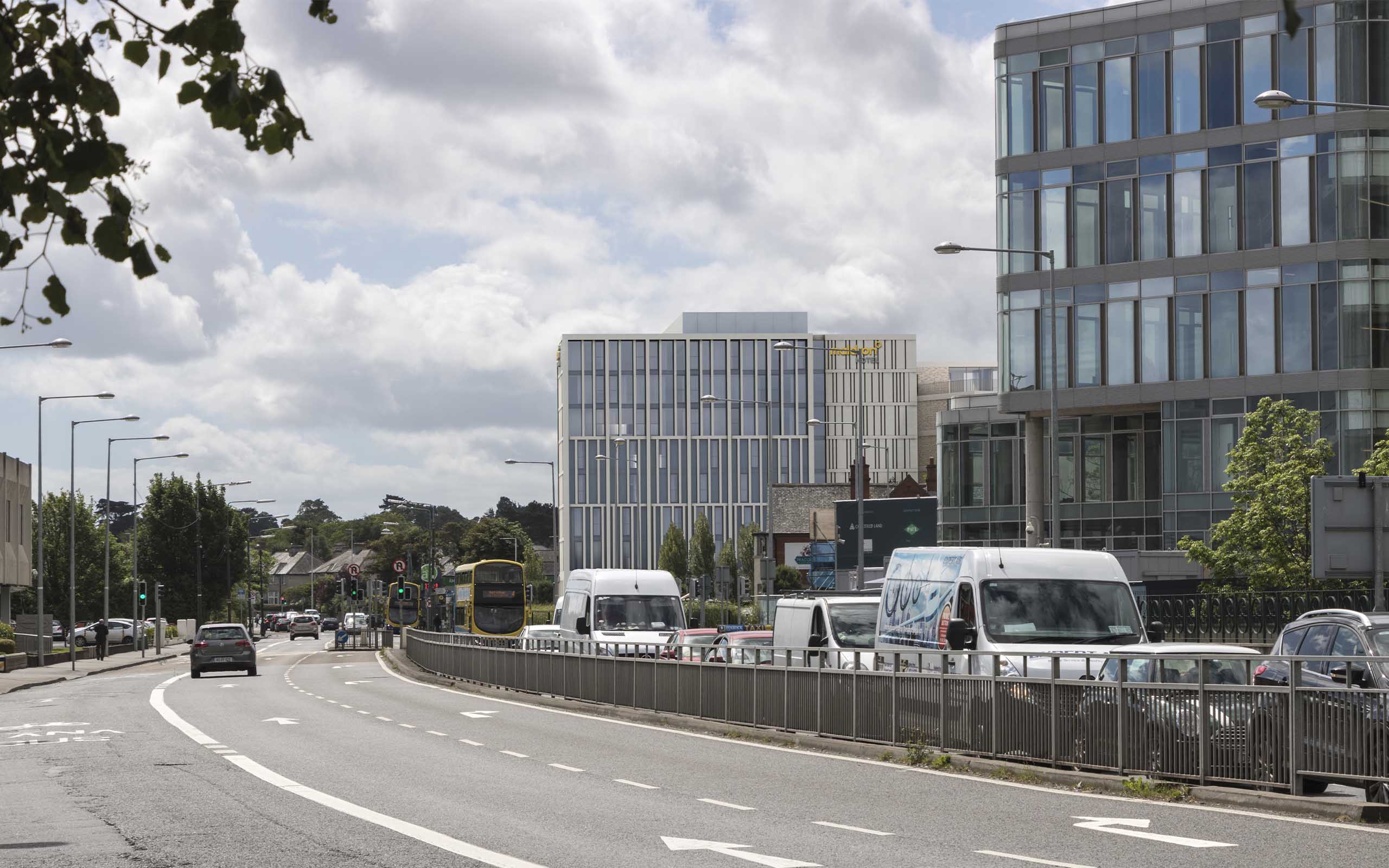 Development Team:
Developer: Dalata Hotel Group is Ireland's largest & UK's fastest growing hotel operator.
Architect: MOLA Architecture provides a diverse range of architectural services ranging from Residential, Urban Design, Masterplanning, Education, Health Care, Hospitality, Civic, Cultural, Interiors, Infrastructural and Mixed Use Developments. They are based in Dublin 4.
Assigned Certifier: Van Dijk Architects Limited is an architecture and project management company representing a number of International design specialists with an ability to bring a wealth of international expertise to projects in the Middle East and Europe.
Planning Consultant: Declan Brassil And Company is one of Ireland's leading Planning Consultancy Practices. They are based in Dublin 7, Ireland.
Quantity Surveyor: Duke McCaffrey Construction Consulting is one of Ireland's leading construction consulting companies. They are based in Dublin 2.
Consulting Engineer: Barrett Mahony Consulting Engineers (BMCE) is an established civil and structural engineering consultancy specialising in all aspects of civil and structural engineering and project management. They are based in Dublin 2.
Landscape Consultant: AIT Urbanism & Landscape are based in Dublin, Ireland.
Environmental Engineer: AWN Consulting Limited is a multidisciplinary consultancy offering specialist design advice, expert witness and litigation support in respect of a wide range of engineering and environmental disciplines. They are based in Dubin 17.
Transport Consultant: CS Consulting Group is a group of civil and structural engineers based in Dublin, Limerick and London.
Main Contractor: McAleer & Rushe Limited are specialist design & build contractors, developers and investors in multi-sector, mixed use schemes.
CGI consultants: 3D Design Bureau – are specialists in architectural visualisation, BIM and VR – delivering quality design planning and marketing solutions. 3D Design Bureau created a series of verified view montages and architectural CGIs which were used for both planning and marketing purposes.
Images produced by 3D Design Bureau