An Bord Pleanála have granted planning permission for the construction of 290 homes at Dalguise House in the Seaside village of Monkstown.
Approved under fast-track planning, the 290 units will be made up of 266 apartments and 24 houses. 4 of the houses will be constructed from the conversion of existing structures on the site. The historic Dalguise House will be converted into 2 dwellings and a creche facility.
The apartments will comprise of a mix of 1-, 2- and 3-bed units. They will be arranged in 8 apartment blocks that will range in height from 5 to 9 storeys. The houses will comprise of a mix of 3- and 4-bed family homes.
The 9-storey apartment block will incorporate communal facilities located at podium level. These include a residents' leisure suite, a business centre, and a multi-function room.
Residents will have access to public and communal open spaces and children's play areas. A total of 314 car spaces and 654 bicycle storage spaces are also outlined in the plans.
The Dalguise development has a residential density of 80 dwellings per hectare. The 3.66 hectare site is located within 300 metres of Monkstown town centre.
CGI consultants, 3D Design Bureau, liaised with the development team to produce 3D marketing deliverables. 3D Design Bureau produced a series of architectural CGIs in the design phase of the project. The visuals are now being used for marketing purposes with national media covering the project.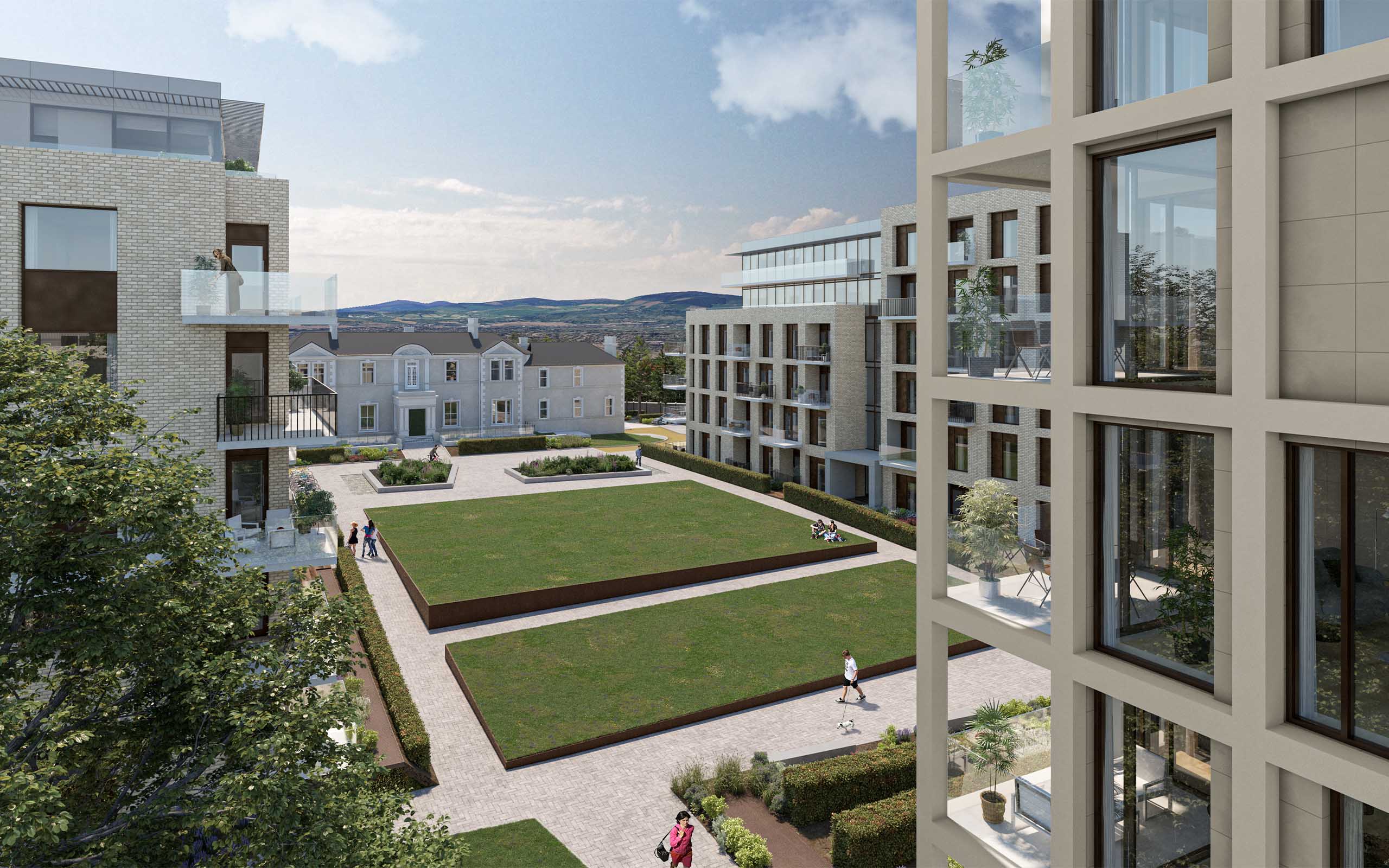 Full Project Details:
Project name: Dalguise Strategic Housing Development, Monkstown.
Site location: Dalguise House, Monkstown Road, Monkstown, Blackrock, South Dublin.
Planning stage: Planning granted
Planning documents: AnBord Pleanála 
Floor area: 30,782 m2
Site area: 3.66 hectares
Storeys: 2 to 9
Units: 290
Car parking: 314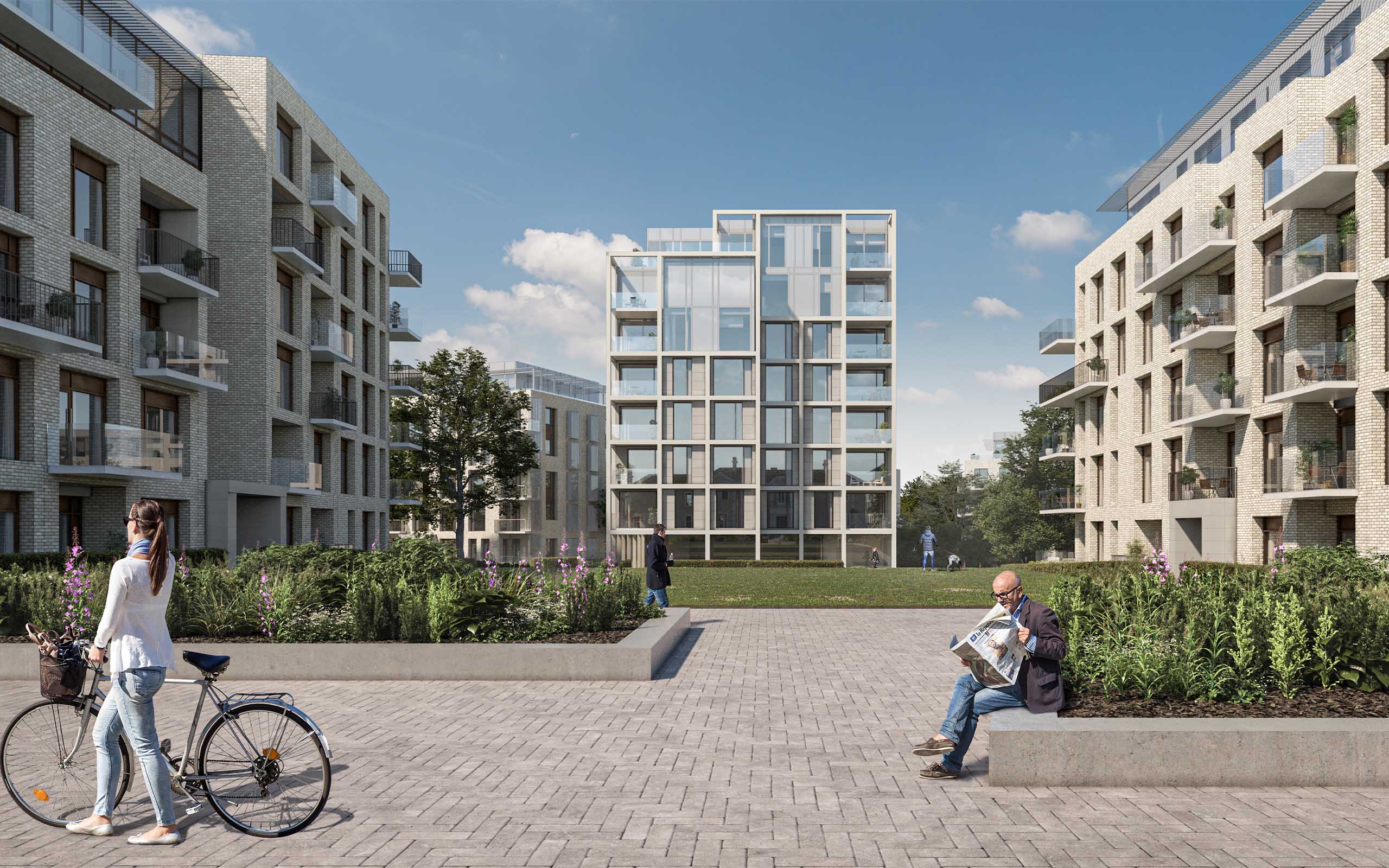 Development Team:
Developer: Lulani Development Limited are based in Ballsbridge, Dublin 4.
Architect: Horan Rainsford Architects are a multi-discipline and award winning architectural practice which was founded in 1973. They are based in Blackrock, South Dublin.
Planning Consultant: John Spain Associates were established in 1996 by John Spain. Based in heart of Dublin's central business district with associate offices in London, Manchester, and Leeds in the United Kingdom. They a wide range of professional services throughout Ireland in the areas of planning, development, and environment.
Consulting Engineer: McCloy Consulting are an award-winning water and environmental engineering practice. They are based in Co. Antrim.
Landscape consultant: Dermot Foley Landscape Architects are based in Dublin 8.
Landscape Consultant: The Tree File are based in Dun Laoghaire, Co. Dublin.
Environmental Engineer: AWN Consulting Limited is a multidisciplinary consultancy offering specialist design advice, expert witness and litigation support in respect of a wide range of engineering and environmental disciplines. They are based in Dubin 17.
CGI consultants: 3D Design Bureau – are specialists in architectural visualisation, BIM and VR – delivering quality design planning and marketing solutions. For this project 3D Design Bureau created a series of architectural CGIs which are being used for planning, marketing and design.
Images produced by 3D Design Bureau