Planning permission is being sought for one of Ireland's largest residential developments to date. A planning application was lodged to An Bord Pleanála for the construction of 1,104 built-to-rent apartments across 4 sites located at Cookstown Castle, Tallaght, Dublin 24.
If approved, the project will involve the demolition of the existing 16,000 sq. m (172,223 sq. ft) of industrial and commercial buildings on site. These will make way for 4 mix-use blocks that will range in height from 4 to 11 storeys.
The apartments will comprise 132 studios, 475 one-bed units, 208 two-bed units, 244 two-bed duplexes and 45 three-bed units. Each of the apartments will have access to private and communal open space in the form of balconies, terraces, amenity space and external communal areas.
The Cookstown Castle development will include 4 commercial units at ground floor, 1,500 sq. m (16,146 sq. ft) of office space and a crèche with an outdoor play area.
Large portions of the 4.99 hectare will be dedicated to public and communal open space. The plans outline the construction of a 1,688 sq. m (18,170 sq. ft) public plaza with an outdoor events space.
The development will feature a total of 351 car parking spaces and 1,860 bicycle spaces. Plans also outline the construction of 3 new roads and 1 pedestrian and cycle link to Belgard Luas Stop.
CGI consultants, 3D Design Bureau, liaised with the development team to provide both 3D planning and 3D marketing solutions. 3D Design Bureau produced a total of 14 verified view montages and 9 architectural CGIs which were submitted as part of the planning application to An Bord Pleanála. The 3D visualisations are now being used for marketing purposes with national media covering the project.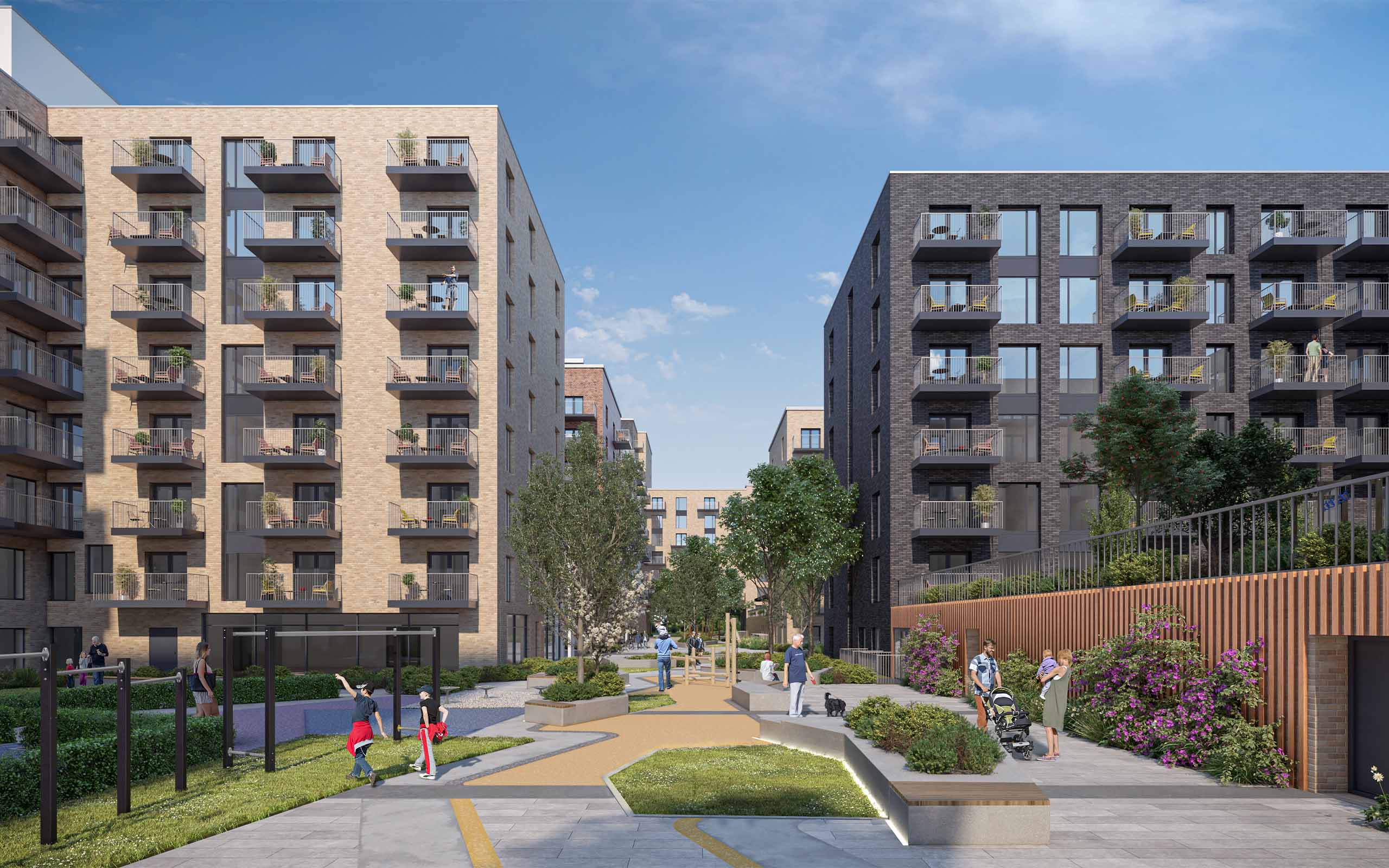 Cookstown Castle Full Project Details:
Project Name: Cookstown Castle SHD.
Site Location: Cookstown Castle, Lands west of Old Belgard Road, and north, south and west of Cookstown Road, Cookstown Industrial Estate, Tallaght, Dublin 24
Planning Stage: Planning submitted.
Planning Documents: An Bord Pleanála – Development Website.
Planning Reference: ABPRED309731
Floor Area: 91,282 m2
Site Area: 4.99 hectares
Storeys: 4 – 11
Units: 1,104
Structures: 4
Bicycle Parking: 1,860
Car Parking: 351
Cookstown Castle Development Team
Developer: Boherkill Property Developments Limited are based in Dublin 2.
Developer: Absolute Limousines Limited are based in Dublin 24.
Developer: C+W O'Brien Architects deliver design-driven architectural solutions with a commercial edge that ensures they provide value by design.
Planning Consultant: Hughes Planning & Development Consultants provide a national planning service and undertake a wide variety of commissions for both public and private sector clients.
Consultant Engineer: GDCL Consulting Engineers have evolved as a provider of civil / structural engineering and project management with local and international clients and a variety of construction projects.
Consulting Engineer: JAK Consulting Engineers are a leading multi-award winning MEP design and sustainable energy consultancy firm in Ireland and the EMEA.
Landscape Consultant: Cunnane Stratton Reynolds provides town planning, landscape architecture, environmental assessment and arboriculture services to developers and the public sector throughout Ireland and the UK.
Environmental Engineer: AWN Consulting Limited is a multidisciplinary consultancy offering specialist design advice, expert witness, and litigation support in respect of a wide range of engineering and environmental disciplines.
Transport Consultant: NRB Consulting Engineers specialise in transport planning, traffic engineering, traffic impact assessments, transportation assessments, road safety audits and other road & associated infrastructure design consultancy services.
CGI Consultants: 3D Design Bureau – are specialists in architectural visualisation, BIM and VR – delivering quality design planning and marketing solutions. For this project 3D Design Bureau produced a total of 14 verified view montages and 9 architectural CGIs which were submitted as part of the planning application to An Bord Pleanála. They are based in Blackrock, Dublin.
Images produced by 3D Design Bureau